Membership Cards
Custom Printed Membership Cards
Membership cards can be useful in several ways. In addition to identifying members, they can allow access to premises or event, or to receive benefits. We can print member information, even photo, on each card. Printing Membership Cards with RFID ability, often used for access and tracking, is a specialty.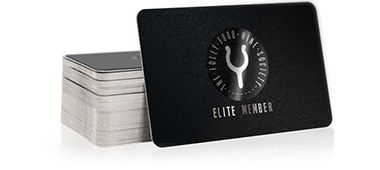 Would you like to print your membership cards on site?
Many of our customers order their plastic card printing to use them as membership cards. Here is a common method of producing personalized membership cards: Order the plastic card printing without the personalization, then later personalize on-site with a desktop card printer. This saves on printer consumables, like ribbons.
If this idea appeals to you, be sure that you place your order for PVC card material, and order the "thermal-enabled laminate" (look under "Special Options" in our online price quote form). To ensure smooth production of your order, mention that you will be personalizing your cards on-site in the special comments area.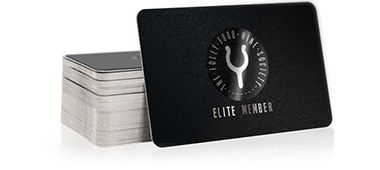 Also Popular: Membership Card with Key Tag Combo
Many businesses have family memberships, and they need a product that will support that. Consider our card and key tag combo. CardPrinting.com has many configurations available and if one of our standard die lines do not suit, custom configurations are also available.
Membership Key Tags
Don't forget we also print membership key tags when you want something smaller and convenient.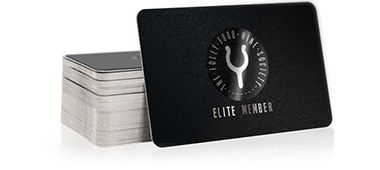 Adding Features That Increase Usability
Your CardPrinting.com card can include a host of options that fulfill your organization's goals. If you need an option that will track attendance or allow access, you might want to order a barcode, magnetic stripe, or even RFID. If the card will be hanging from a lanyard, be sure to choose something like a luggage tag slot or hole. Choose Thermal-Enabled Laminate if you are personalizing your card on-site.
Your project is assigned to a single CardPrinting.com Card Specialist.
Your account will be assigned to one of our experienced customer service people who will be an advisor and resource for you, in addition to being someone who can take your order.
Product Number:

MEM001

Finished Size (CR80):

3.375" X 2.125"

Rounded corners:

0.125 radius

Color:

Full color printing on
one or both sides
Product Options:
Rush turnaround
Custom shapes and sizes
Call 866-344-2300
Membership Cards (CR-80, ID-1) Template:
Download our templates below to ensure your artwork will print correctly.
Adobe Acrobat
File format: PDF
Download .pdf template
Adobe Illustrator
File format: AI
Download .ai template
Great Uses For Membership Cards
Identification
Access
Member retention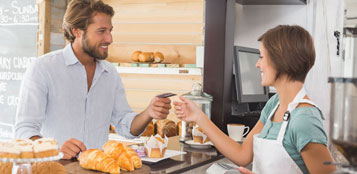 Commonly asked questions about Membership Cards:
PVC or Composite? Which should I order?

There are several factors that will drive your choice of plastic card printing material:

Card design features: Some of our great printing features, such as foil stamping, can only be accomplished on the PVC base material. If you have questions about the features we offer, please contact a Cardprinting.us representative via chat or phone and allow them to guide you in your available choices.

Aesthetics: The PVC card looks like your credit card … the same thickness, the same material. Our Composite card has the same thickness as the standard PVC credit card, the same functionality, but because it has a thinner core and a thicker laminate, there are slight differences in the way it looks in comparison.

Cost: Our Composite card tends to be slightly more economical than the PVC card.

Turnaround time: Our Composite card turnaround time is generally 9-11 business days compared to 12-14 business days for the PVC card.

Rush services: As quickly as a two-day turnaround may be available for Composite orders, and expedited orders for PVC may be also available. Please check with a Cardprinting.us representative.

More answers to your Frequently Asked Questions may be found on our FAQ page.