PVC Key Tags, RFID Key Tags Custom Printed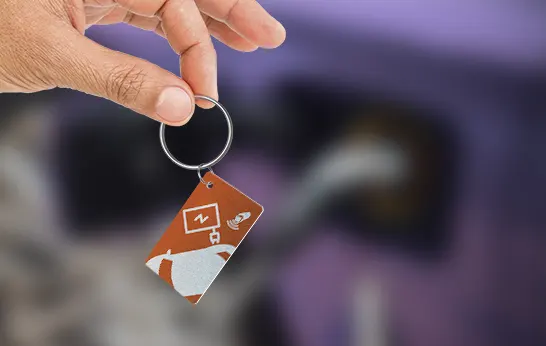 Cardprinting.com is happy to introduce to our customers our newest custom printed product – our 2.56" x 1.57" PVC Key Tag with an option to add RFID (Radio Frequency Identification) capability to it.
Many older hardware interfaces are being replaced to read and interact with RFID cards and RFID key tags. These RFID systems are ideal for:
access to services such as EV Charging stations
rental kiosks
self-service micro markets
vending
area access control (areas of a building, swimming pools, elevators, gyms)
event access and tracking
Our newest key tag (also known as a key fob) is a little bit thicker than a credit card at 34 mil and are manufactured with and custom printed on PVC, which is the same material as a credit card. They can contain variable data such as a bar code, QR code or simple data like numbering.
The most popular chipsets for these tags are the NXP NTAG213, NXP Ultralight EV1, NXP ICODE SLIX and the MiFare 1K (all 13.56 MHz operating frequency). If you need a chip other than these, we can manufacture the key tags with whichever chip you require, just let us know when you request your quote.
About CardPrinting.com
CardPrinting.com is a division of Tele-Pak, Inc., a leading global provider of plastic card printing since 1996. Our services include: Gift Cards, Membership Cards, Fundraising Cards, Hotel Key Cards, PVC Cards, Plastic Key Tags, Point of Sale Activation (POSA) Cards and more. When it comes to delivering quality products and services that meet our customers' highest standards, our "can do" spirit is key to our success.