Plastic Key Tags with Barcodes & Key Fobs Custom Printed
Barcode Key Tags, Membership Key Tags, RFID Key Tags & More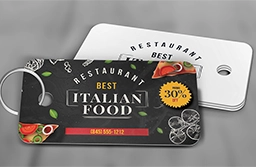 Plastic key tags are among the most valuable tools in marketing your business. It is a simple and effective way to put your business's branding directly into the hands of your customer. CardPrinting.com plastic key tags are made from durable PVC or composite laminated materials. We have many popular shapes and sizes to choose from. If you do not see a key tag shape that you are looking for, please ask, we may have it or a custom key tag shape can be made.
Popular features can be added to our key tags, such as numbering, barcodes, encoded magnetic stripes, even RFID inlays. Let us know what you need, and we'll get a quote back to you.
Barcode Key Tags
All of our key tags can have a barcode printed on them. They are usually printed on the back, and most times have a number printed underneath. If you'd like to get pricing or order barcode key tags, just look under the "Select Your Card Options" slider.
Membership Key Tags with Barcode
Membership key tags (also known as membership key fobs) are one of the most popular uses for custom printed key tags. A membership key tag often has a barcode or a number printed on it. These features printed on a key tag interact with software that identifies your customer, allows access to premises and/or track attendance, making them ideal for fitness centers, spas, grocery store membership clubs and more.
RFID Key Tags and Fobs
Need the advantages that RFID technology provides? You've come to the right place. CardPrinting.com can custom print PVC key tags and fobs with RFID inlays. Just let us know what you need, and we will get right back to you with a quote.
Let our knowledgeable and experienced CardPrinting.com staff with the "Can Do" attitude help you with your custom plastic key tag order. Chat with us or call us today.
Get Your Brand Out There!
Find the perfect fit for your business or organization with key tags and plastic card printing by CardPrinting.com