Three-Up Key Tags
PKT006M
One of our most popular!
This is a handy three-up unit (or matrix) of medium plastic key tags, attached together to fit within a framework size of a credit card. Many national and international brands have ordered this exact type of key tag - usually a barcode key tag - to further their branding and image with their customers. You can easily do this too by ordering the Three-Up Plastic Key Tag from CardPrinting.com using your own logo on your artwork! Click on the "chat with us" button and let a friendly CardPrinting.com team member guide you.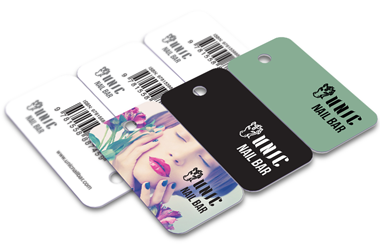 Choices, choices
The three up key tag is offered in both our composite laminated and also the PVC materials. It is also available with a smaller perforation rather than the standard ties.
Barcode Key Tags
All of our key tags can have a barcode printed on them. They are usually printed on the back, and most times have a number printed underneath. If you'd like to get pricing or order barcode key tags, just look under the "Select Your Card Options" slider.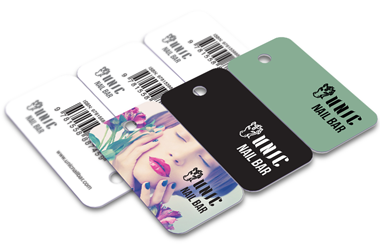 Membership Key Tags
Membership key tags are one of the most popular key tag uses and often has a barcode or a number printed on it. When scanned, these features interact with software that tracks things like access, attendance and other data.
Plastic Key Tag Uses
These are industries that frequently buy custom printed key tags, and how they are used:
Membership Key Tags
Fitness Centers, Gyms, Yoga Studios
Salons, Spas, Wellness Centers
Grocery, Markets
Loyalty Key Tags
Automotive Centers
Discount Key Tags
Priority One
Quality is at the top of our priority list, so you can be sure that we here at CardPrinting.com aim to print the best quality product it can but we stand behind it too. If something has gone wrong with your order all you have to do is contact us and we will try as hard as we can to resolve the issue.
Why CardPrinting.com?
Simply put, the answer to that question is "because we know what we're doing." That's why so many businesses have trusted us with their card printing since 1996.
Product Number:

PKT006M

Material

Composite Laminated or PVC

Tag Size:

2.125" x 1.125"

Thickness:

30 mil
Product Options:
Barcode
Numbering
Matte Writable
Rush turnaround
Custom shapes and sizes
RFID available
Call 866-344-2300
PKT006M Template:
Download our template below to ensure your artwork will print correctly.
TYPICAL USES:
Bar Code Key Tags
Membership Key Tags
Gyms & Fitness Center Key Tags
Salon & Spa Key Tags
Automotive Key Tags
Grocery & Market Loyalty Key Tags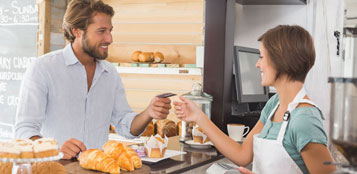 Frequently asked questions about custom printed plastic key tags:
More answers to your Frequently Asked Questions may be found on our FAQ page.