Scratch Card Production & Security
Tele-Pak / CardPrinting.com has been printing scratch cards for the prepaid phone card industry since 1998. We have earned a fine reputation of delivering quality cards with security features at great pricing.
Production and Quality Assurance
Durable scratch cards with proper wrapping are essential when distribution is worldwide. At Tele-Pak CardPrinting.com, your cards are printed on the best materials available and the wrapping and distribution is done as you require. Finished product can be batched in 10's 20's 25's 50's or 100's. Cards can be wrapped with a fin seal process or 4 side seal (kora-pak). New security features do not allow re-sealing of tampered packages (no re-closing!). Printing quality and card lamination is inspected on every job with the best quality inspection procedures available, assuring delivery of the best quality scratch cards available in the industry today.
High Security Scratch-Off
Tele-Pak's security features can be applied in the printing process or in the application of scratch-offs. Security design is focused on and tested for light/laser penetrations, and ease of scratch-ability. Below is a cross section of our scratch card scratch-off. For more information, please see our online scratch card product listings or email any questions to sales@cardprinting.com. We look forward to hearing from you!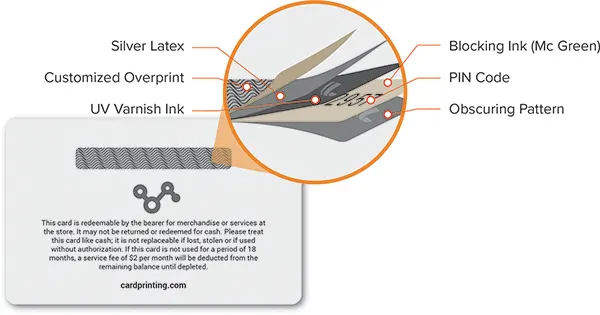 Click on this link for more information about CardPrinting.com's Scratch Cards .
About CardPrinting.com
CardPrinting.com is a division of Tele-Pak, Inc., a leading global provider of plastic card printing since 1996. Our services include: Gift Cards, Membership Cards, Fundraising Cards, Hotel Key Cards, PVC Cards, Plastic Key Tags, Point of Sale Activation (POSA) Cards and more. When it comes to delivering quality products and services that meet our customers' highest standards, our "can do" spirit is key to our success.