Hotel Key Cards and
Access Cards
Custom Printed Key Cards
CardPrinting.com is an ideal partner to print your custom hotel key cards, because we have low minimum quantities and competitive short run pricing. Of course, we have excellent pricing for the larger runs, too!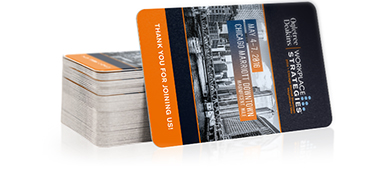 Key Cards need not be an added expense!
Many hotels partner with local businesses in placing advertisements on the access card. The advertising fees defray the costs of the cards, the hotel gets a top quality card - win-win for everyone!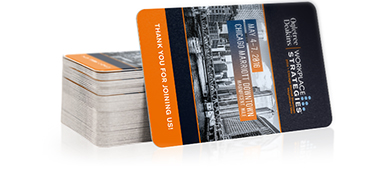 What kind of technology do you need?
Whatever the type of technology you need for your guest room locking system, we can print for it. Whether it be magnetic stripe based or RFID contactless - or even both - we can print the cards you need with the necessary technological components.
RFID Wristbands & Key Fobs
Are you in need of RFID wristbands or key fobs? Chat with us or email us and we'll get you a custom quote. You may also request samples if you need them.
Your project is assigned to a single CardPrinting.com Card Specialist.
Your account will be assigned to one of our experienced customer service people who will be an advisor and resource for you, in addition to being someone who can take your order.
Go with experience
Whether your order is a short printing run or a larger one, every order receives the same eagle-eye attention to detail and an experienced customer service Card Specialist that focuses on your account. If you don't see what you need, please contact us by clicking on the chat button or email us.
Product Number:

HKC001-80 (CR80)
HKC002-50 (CR50)

Finished Size:

CR80: 3.375" x 2.125"
CR50: 3.5" x 1.725"

Rounded corners:

0.125 radius

Compatibility:

Ving, Miwa, Onity, Kaba Ilco, Safelok, more
(please email us with questions)

Media:

Magnetic Stripe
Contactless RFID

ISO14333A compliant
CR80 and CR50 Hotel Key Card / Access Control Card Template:
Download our templates below to ensure your artwork will print correctly.
KEY CARDS FOR EVENT/OCCASIONS
When you have a huge event or important occasion on the line, you want to pay attention to every detail, even down to the hotel key card. Promote your event on a custom printed hotel key card.