Custom Gift Cards
Gift Cards For Your Business
Plastic gift cards can be a vital business tool. They are a popular product, providing a convenient way for customers to give gifts to friends and family without worrying about choosing the perfect item or guessing someone's size or preferences. Recipients usually spend more than the initial gift card value, which increases sales and revenue. Here's something even better: When someone receives a gift card from your business, they're not just getting a great gift, they're also getting a referral from a customer. There is nothing better than a customer standing behind your brand!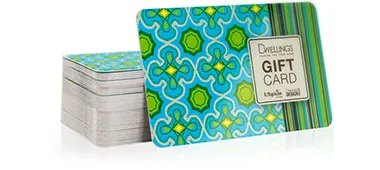 Custom Gift Cards Increase Sales
When recipients come in to redeem their card, most spend beyond the loaded value. On average, 20% of the funds loaded to a card are not used. Both are positives to your bottom line.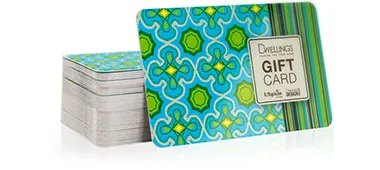 Increase Brand Recognition
There is nothing better to increase sales than word of mouth and referrals. You do that by making yourself known to your community and increase your brand recognition.
Barcode Gift Cards
Including a barcode on your gift card is part of a faster and more efficient checkout process, which improves the customer experience. It is also an identification feature that can help businesses track and manage the redemption of gift cards, keep track of the value of the cards in circulation and monitor their usage.
Not sure which Barcode you need?
If you are unsure which barcode you need for your scanner, download our Barcode Test Sheet and follow the instructions.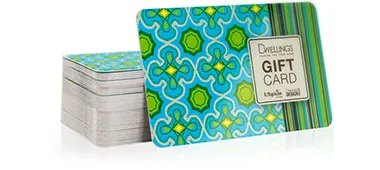 Custom shapes, sizes &
thicknesses available
Custom shapes and sizes are possible. We also manufacture 40 mil, 50 mil and 60 mil thick cards. Please call us at 866-344-2300 for pricing or more information.
We print cards compatible for nearly all POS providers
We make sure our cards are compatible with your system by sending you test cards during the printing process.
Which Businesses Should Buy Custom Gift Cards?
Nearly every business type can benefit from buying gift cards for their business!:
Food Service:

Restaurant gift cards, coffee shop gift cards, deli gift cards, bakery gift cards, grocery store gift cards & more!

Services:

car wash gift cards, spa and salon gift cards, equipment rentals gift cards

Retail:

Garden centers gift cards, department store gift cards, clothing store gift cards, liquor stores gift cards, book stores gift cards, online shopping gift cards
Gift Card Custom Design
Gift card design can be a little overwhelming. Bleed? What is bleed? Spot UV? What is THAT? Plastic gift cards for your business are important marketing tools. Perhaps you should consider hiring a designer to create your gift card design. Cardprinting.com has a team of designers ready to unleash their creativity to design the gift card for your business and make it into reality.
Custom Gift Card Trends
Yes, you can have a gift card designed for your business that is every bit as noticeable and attractive as popular national coffee chain brands! They take advantage of different premium gift card finishes and features to augment striking designs. You can too! Check out these trends in custom gift cards and plastic card printing:
Matte finish:

Matte laminate on a plastic gift card dulls the shine, leaving a luxe smooth feel as well as a different visual effect. This is available on all materials.

Foil Stamping:

Foil stamping is a way to attract attention, its shine is eye-catching and your custom printed gift card will leave an impression. Available only on PVC cards.

Clear gift cards:

"Clearly" a winning choice for material, clear PVC offers unique and exciting design options for custom gift card printing.