Unleash The Potential Of Smart Cards
FARGO HDP5000 ID Card Printer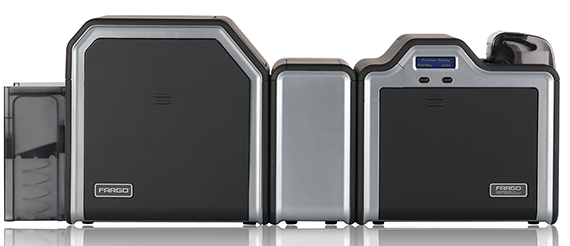 Your ID card may hang at the end of the lanyard, but that's not where its potential ends. Supercharge your ID cards so that they do so much more for you by tapping into the power potential of proximity cards and multifunctional smart cards. Proximity cards and smart cards are durable and secure, when produced in high definition by the Fargo HDP5000 High Definition Card Printer/Encoder.
FEATURES:
Optional single-sided or simultaneous dual-sided lamination for higher card security.
Dual-sided card printing.
LCD Control Panel displays helpful status messages and prompts.
Cartridge-based card handling allows faster reloading or changing to different card stocks.
High-yield ribbon, film and overlaminate cartridges load fast
Encoder handles magnetic stripe, proximity, contact and contactless smart cards.
USB and Ethernet connectivity plus internal print server for secure network printing.
The HDP5000 supports a wide range of card technologies
Contactless Cards
Contact Smart Cards
Proximity Cards
Magnetic Stripe Cards
Optical Memory Cards
Bar Code Cards
PRODUCT SPECIFICATIONS:
| | |
| --- | --- |
| Condition: | NEW, Opened box |
| Printer Type: | ID Card Printer |
| Technology: | Thermal – Dye Sublimation |
| Output Type: | Color |
| Max Resolution: | 300 dpi |
| Platform: | PC |
| Interface: | Ethernet (RJ-45), USB 2.0 |
| Form Factor: | Desktop |
| Width: | 17.5 in |
| Depth: | 9.3 in |
| Height: | 11.5 in |
| Weight: | 22 lb. |
The HDP5000 printer/encoder sets the standard for secure High Definition cards that meet the card application needs of:
Government agencies & departments
Medium-to-large corporations
Financial institutions
Colleges and universities
Health care facilities & research labs
Service bureaus
The Beauty of High Definition Printing Runs Deep
ID cards should reflect your organization's pride, and the HDP5000 produces ID cards with the highest image quality available – High Definition cards. By printing a reverse image on the underside of HDP film, then fusing the film to the card surface, the HDP5000 creates an image quality that looks more like a crisp glossy photo than an ordinary ID badge.
The High Definition cards produced on the HDP5000 are inherently more durable and secure than other types of cards. They resist wear and tear by putting a durable layer of HDP Film between the card image and the outside world. They're also tamper-evident.
If a counterfeiter tried to peel apart the layers, the image essentially destroys itself.