Card & Four Key Tag Combo
Two Tags In Front & Back...
Research has shown that Americans base their shopping decisions upon which loyalty programs they are enrolled. If your business does not have one, it could be missing out. A custom printed card and key tag product is perfect support for your business' loyalty program.
Shoppers also looked At:

Plastic Cards
Find Out More >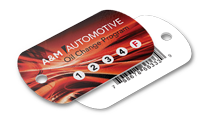 Plastic Key Tags
Find Out More >

Plastic Postcards & Mailers
Find Out More >