We Have the Perfect Rear View Mirror Hanger for your Organization!
Our latest product line: Custom-Printed Rear-View Mirror Tags!

Our custom-printed rear-view mirror hang tags offer a time-tested and convenient solution for parking management, residential complexes, gated communities, and carpools, as well as access passes for events. This product can be completely personalized with names, identification numbers, and branding – whatever it is that you would like to see on them. Gone are the days of fumbling for parking permits or displaying flimsy credentials. Our hang tags are manufactured and printed on stock that is the same thickness as a credit card: 30 mil PVC, which ensures functionality and longevity. With clear visibility, bold designs, and customizable options, these tags effortlessly communicate authorization while adding a touch of professionalism to your organization's project.
Currently, we offer four standard sizes, and two different thicknesses, 10 mil and 30 mil. They are printed in four color process, one or both sides, with numbering and other personalization possible, too.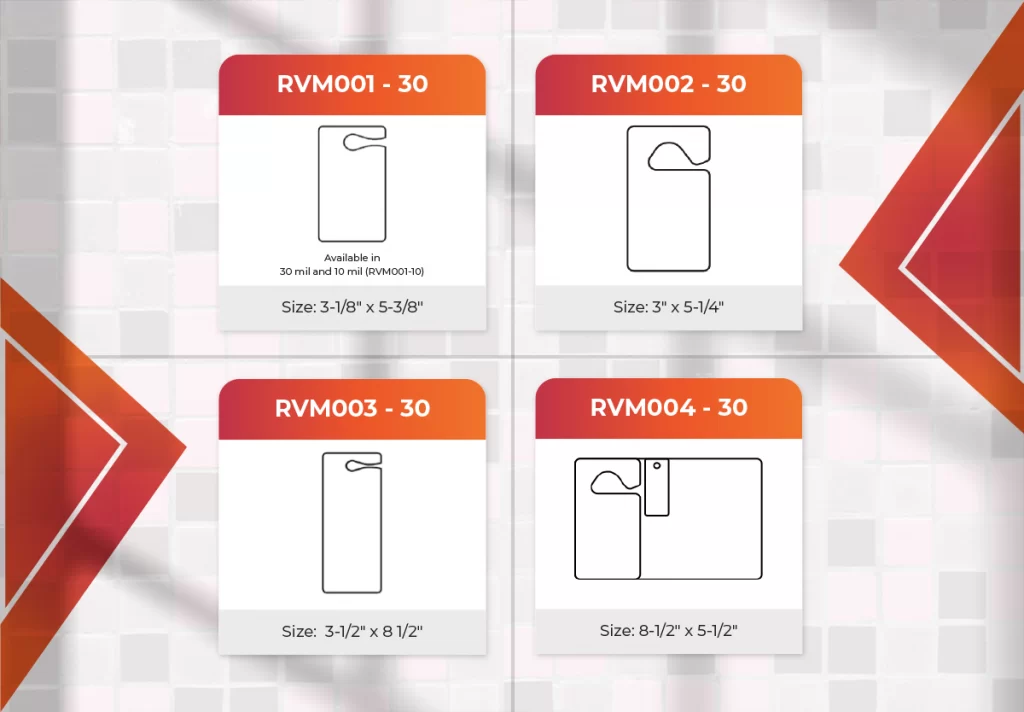 What kind of organizations use rear-view mirror hang tags?  What do they use them for?  Here is a list of customers that have ordered our tags and some of their projects:
Parking Permits: Educational institutions and residential and business complexes regularly order our rear-view mirror hang tags to serve as parking permits. These tags can be printed with specific colors, numbers, and/or barcodes to indicate authorized parking privileges.
Access Passes: One event organizer orders our tags for VIP parking access to their events. They are personalized with event details, QR codes, and visible numbering.
Identification Tags: One automobile dealer uses the tags to identify the cars in their sales lots. They like the tags with the writable surfaces. One rental company uses branded tags for similar purposes, identifying the cars in their lots. These tags can be made with RFID technology, too.
Safety and Warning Notices: A trucking company uses our tags to write in the truck height and also emergency contact information. They also use tags to indicate that a vehicle is oversized and/or carrying hazardous materials.
Equipment warnings: A heating and cooling company orders tags from us to warn employees or customers of vital areas in their HVAC systems.
We understand that each organization has unique needs and preferences. We can create custom shapes and sizes, in addition to mostly any printing or variable specifications needed. Just tell us what you need, and we will make it happen for you!