4" x 5" ID Badge
EVID009
Whatever your security identification needs, event promoters and security departments can rely upon CardPrinting.com to provide them with custom printed and personalized event badges, VIP passes, access control, travel badges or luggage tags. CardPrinting.com has been producing high quality plastic printing for over 20 years.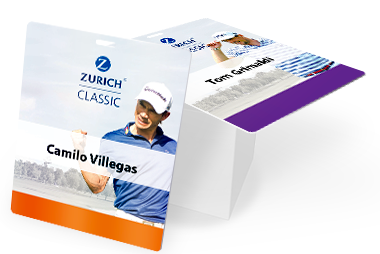 Are you printing on-site?
Be sure to order a PVC material if you plan on printing or personalizing your cards on-site.
Choices.
Cardprinting.com offers the highest quality PVC as well as synthetic laminate attendee badges, VIP passes and security hard card credentials for your events, trade shows, conventions, meetings, or reunions. We have a wide selection of sizes and shapes. If you don't see what you need, custom size and shape dies can be an option, too.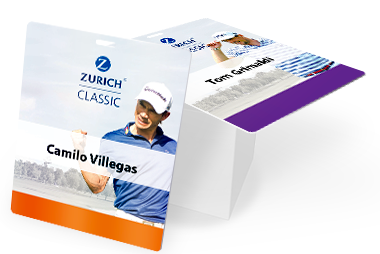 Custom sizes are available
Custom sizes are available. Please call us at 866-344-2300 and we will be happy to give you more pricing and more information on any custom size card orders.
Photo ID Badges for Employees
We print photo badges for employees, custom-made for your company.
Limitations
Orders that require the printing of identification for government agencies (U.S. and non-U.S.), corporations and educational institutions must be authorized and verifiable. We will not accept an order from an individual for these types of identification.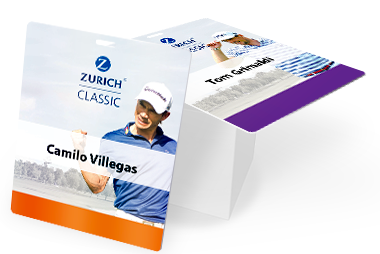 Security and Personalization
Also available is RFID / Smart card technology. If you are looking to have this as a feature for your badges or passes please contact us. After obtaining some simple details from you, we can give you answers to some of the questions you might have. Other options available are magnetic stripe, barcode, QR code and straight numbering as options.
We Can Distribute & Drop Ship
Do you have multiple offices or employees that work remotely? We have distribution and drop shipping services. Just let us know.
Product Number:

EVID009

Finished Size:

4" X 5"

Material:

Composite or PVC

Color:

Full color printing on
one or both sides
Product Options:
Custom shapes and sizes
Alternative material possible
Call 866-344-2300
EVID009 Template:
Download our template below to ensure your artwork will print correctly.
Markets / industries:
Corporations
Facilities Access
Event Entrance
Areas Access
Membership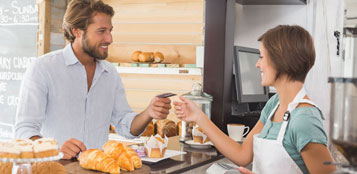 Commonly asked questions about ID/Event/Access cards:
More answers to your Frequently Asked Questions may be found on our FAQ page.